The recent public release of geophysical data for the Boothia Peninsula in Nunavut, one of Canada's newest diamond exploration hotspots, illustrates how Geosoft DAP technology is helping Natural Resources Canada's Geological Survey of Canada (GSC) fulfill its mandate to improve Canada's competitive advantage in attracting investment in resource exploration.
Several companies hold large tracts of ground on the peninsula because the area is considered prospective for diamonds. But in order to find a diamond deposit, explorers must first find the rock type that hosts the gems. This source rock, kimberlite, is often pinpointed by its unique aeromagnetic signature.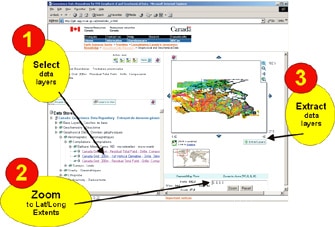 Until lately, there have been no publicly accessible geophysical maps to help identify kimberlites on the Boothia Peninsula.
But in April 2005, the GSC's Northern Resource Development Program made high-resolution aeromagnetic survey data available for the area through its DAP web interface. Explorers eager for further evidence of diamond prospects at Boothia jumped at the chance to access the data instantaneously on the Internet.
In 2004, the Geological Survey of Canada recorded a total of 3,000 downloads through the Geosoft DAP interface.
"The Boothia Peninsula is a huge area where there has been no government aeromagnetic survey ever flown," says Warner Miles, head of the GSC's Regional Geophysics Section. "The data set illustrates the complex geology and deformational history of the area. As soon as it became available, exploration companies were able to download it immediately at no cost."
It's this kind of service that GSC clients, including just about everyone who explores for minerals in Canada, have been requesting for years. Miles says the catalyst for the GSC's adoption of Geosoft DAP was the imminent retirement of at least two of its employees in the Geophysical Data Centre, which employed four people to deliver up to 300 requests for data each year from private industry.
At the same time, the Survey realized that their clients were becoming increasingly sophisticated about their own needs in terms of data formats and projections.
"We found that the users were capable and willing to download these data themselves and that we couldn't replace departing staff," says Miles. "There is still a significant demand for hard copy custom maps and digital data on hard media, but that demand is diminishing rapidly."
The GSC set out to develop its own data delivery system for a one-kilometer aeromagnetic grid of Canada. But the in-house system could manage only gridded data in limited formats and had no reprojection capabilities.
In Geosoft DAP, the government geophysicists found a solution to the combined challenge of dwindling staff and increasing demands for speed and efficiency. The software allowed on-line loading of several high-resolution data sets, including both geochemical and geophysical data, a couple of years ahead of the timeline possible for the section's existing application.
In January 2004, the group loaded a 200-metre aeromagnetic grid of the entire country and the complete gravity anomaly database onto the Geosoft DAP web interface. They were the first group in the GSC, as part of a 2-year program to consolidate Canada's geoscience knowledge, to get data on-line and available for download, an achievement Miles attributes to the use of Geosoft DAP instead of the group's less mature in-house system.
"This fits exactly with our current policy," says Miles. "The data is out there, it's being used, and we're not applying any friction to the wheels of exploration in Canada. But we've just scratched the surface in terms of getting the word out to the broader geoscience community."
Implementing DAP was not all smooth sailing for the GSC, which has different requirements from those in private industry. For example, because the Survey is federal, all of the DAP text were translated into French and presented in both official languages. Additionally, because its end users are external instead of internal, the Survey had to rely heavily on the web interface and devise a way to for clients to zoom into a particular area using latitude and longitude ranges.
"There were a lot of growing pains and we were on the phone constantly," says Miles. "But the way we look at it is that this has saved us a great deal of time and money in terms of salary dollars."
End users are also saving time and money. Before Geosoft DAP, a 200-metre magnetic grid for Saskatchewan and Alberta, for example, would have cost $10,000 and taken several days to process. Now it's free and instantaneous.
In the near future, Miles hopes to be able to deliver all 932 of the GSC's aeromagnetic and radiometric data surveys through Geosoft DAP. All new surveys will be loaded as profile data and optimum resolution grids.
Eventually, he envisions compatibility between the GSC and the provincial surveys.
"It would be a big improvement for a user to see provincial and territorial data holdings when they look at our data and vice-versa."
But for now, Miles is content to play his part in fulfilling the policy set out by Natural Resource Canada's Earth Science Sector "to make access to, and delivery of, as many of its knowledge assets as possible free of charge or at a minimal cost". The Geosoft DAP technology is helping him do that.