In recent years the business case for diversity has grown. It's now well known that there's a strong link between high diversity and company financial outperformance. But there are other business benefits too.
In 2011 Reykjavik Energy (OR), an Icelandic utility company with geothermal power plants, decided to 'invest in the future.' They pledged to balance genders in upper management and eliminate the gender pay-gap within their company. Five years later, they had 51% women in management and no notable pay gap between genders. What they discovered? Their employees' job satisfaction was now higher than industry standard.
Hildigunnur Thorsteinsson is OR's Managing Director of Research and Development, and she presented these findings at the 40th New Zealand Geothermal Workshop this November.
"The world is faced with big challenges, the energy industry not excluded," she said. "To solve these challenges we need a diverse workforce because diverse groups make better decisions, foster better work ethics and make for a more fun environment to work in."
Andrea (Andy) Blair was also a keynote speaker at last month's workshop, and she has similar sentiments. Originally trained in forestry, she turned her attention to geothermal energy ten years ago. Now she's a key individual in the New Zealand industry. Currently, she's a Director at Upflow Ltd., a Director at the International Geothermal Association, the Chair of Energy at the Bay of Connections and a Board Member for Enterprise Great Lake Taupo.
There's one more. Andy is also the Global Chair for Women in Geothermal (WING) – a not-for-profit, volunteer-run organisation focused on promoting the education, professional development and advancement of women in the geothermal industry.
"I've been a WING chair since 2013," said Andy. "It kicked off in Las Vegas during the Geothermal Resources Council Annual meeting. There were two individuals from University of California, Davis who wanted to start this organisation 'WING' and about 80 women turned up for the meeting. It was amazing."
Though Andy didn't really have expendable free time, she was still motivated to volunteer.
"They asked me if I wanted to be the Global Chair, and you know, it's not like I needed another project – but I said okay. I knew this work was important and felt a moral obligation to wade in," she said. "But I want to tell you, it's been the single most fulfilling thing I've done in my career to date. I can't change the whole world, but I can change the world that I work in."
For Andy, her motivation stemmed partly from her experiences working in male-dominated industries and wanting it to be different for her 3-year-old niece. But it was also driven by a desire for the geothermal industry to strengthen from within.
"Diversity is strength," she said. "Through our differences, we learn from each other. We can be a stronger, more successful industry if we shine the light on those gems that are hidden."
As the Global Chair, Andy worked with the WING Global Team to craft the "Roadmap to Iceland 2020", a strategic action plan for WING that will conclude at the 2020 World Geothermal Congress in Reykjavik, Iceland. Goals include having 1,500 WING members worldwide, 50% male membership (called WINGmen), and a WING group in every geothermal country.
They've already gathered steam ahead of their 2020 goals. Right now, they have representation in 48 countries and over 1,300 members, making them the largest geothermal association in the world.
Of those members, 22% are WINGmen. Andy believes it's important to have a meaningful proportion of WINGmen, as men make up 84% of the geothermal industry and hold most leadership positions. Without their support, it's unlikely meaningful change will occur.
Jeremy O'Brien, our Business Manager of Geothermal Energy, is one of those WINGmen. He spearheaded the initiative for Seequent to become WING's first Global Visibility Partner, and the creation of the WING / Seequent Visibility Scholarship. The scholarship funds one WING member each year to attend a global geothermal conference and present a research paper.
"When I sat down with Andy to talk about ideas, the key vision we had in mind was giving a WING member the ability to go and further themselves," said Jeremy. "The scholarship furthers not only the visibility of that person, but also the visibility of WING within the geothermal industry. This year, we were proud to present the scholarship to Rocelle Mendoza for her research on geothermal exploration methods."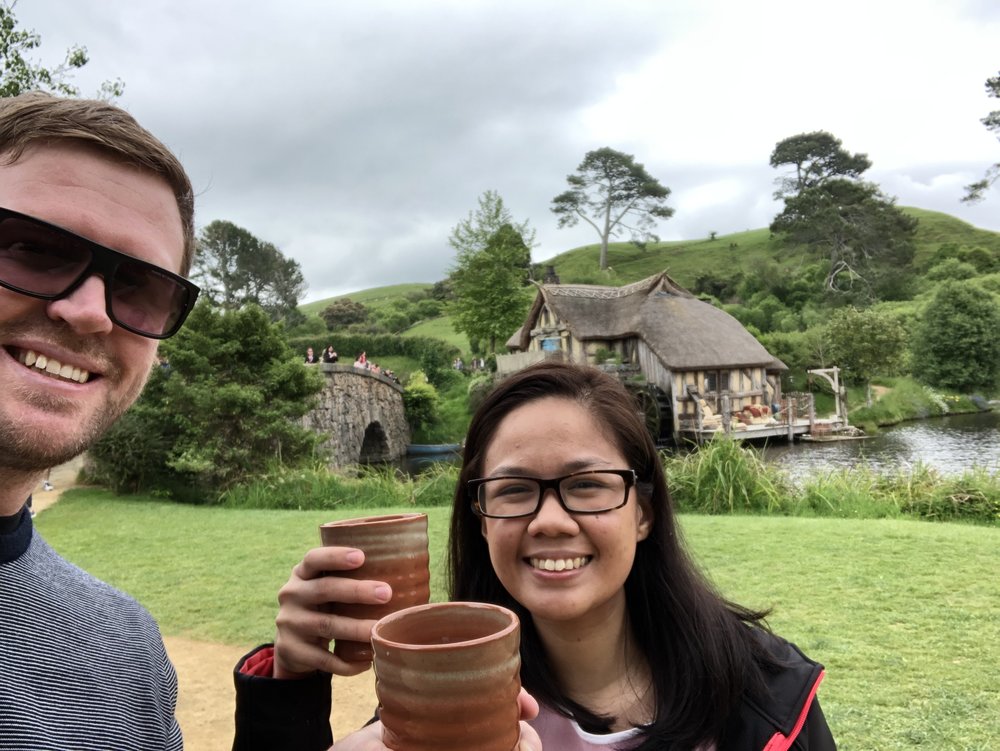 Rocelle came to our New Zealand office on November 19 to share her research. She also shared the story of how she became the first women geophysicist at the Energy Development Corporation in the Philippines, where she currently works. Her presentation was nothing short of inspiring – which seems to be one of the things WING and its member do best: inspire and empower. Jeremy agrees.
"It's been incredible to be part of the WING network as they break down barriers for women," he said. "The tools and initiatives they create to support women in the workplace, also support men, whether it's workshops or the work they're doing on maternity and paternity models. I've learned to think differently and understand new perspectives."
One project WING ran was called the WINGman Special Taskforce.
"For a whole year we got together with a group of about 12 men from technical and field management groups," Andy said. "Once a month we spoke to them about things like unconscious bias and how to see bias in themselves; how to see bias in processes, how that affects women. We had really interesting conversations. But we also gave them tools. For example, how to engage women in your technical meetings. Like, if you see a woman being talked over, jump in and stop it."
And what WING is teaching – to question personal beliefs and the context around them – doesn't just have benefits for women.
"These tools interestingly, also help with other diverse groups in the room," said Andy. "Like introverts, how do you get information from introverts and what's your bias around introverts. There's a lot of leadership gold hidden inside people that we as an industry should learn to dig for. Instead of just making them try to fit what we think a leader should be. Why don't we challenge our thinking?"
WING is providing arguably the most powerful tool we can have at our disposal – the ability to harness the expertise of our people. Every person has their own unique perspectives of the world and the challenges that we face. When we bring those differences together, we create better solutions.
"For me, it's not about women at the front," said Andy. "It's about having a strong community and a strong industry that's going to last for a long time. Because it's really important for our planet."
At Seequent, we're proud to support an organisation that's inspiring positive change across an entire industry. We can't wait to see what 2020 will bring, and to follow the careers of WING women like Andy Blair, Hildigunnur Thorsteinsson and Rocelle Mendoza – who are tirelessly working to pave a new future for geothermal.